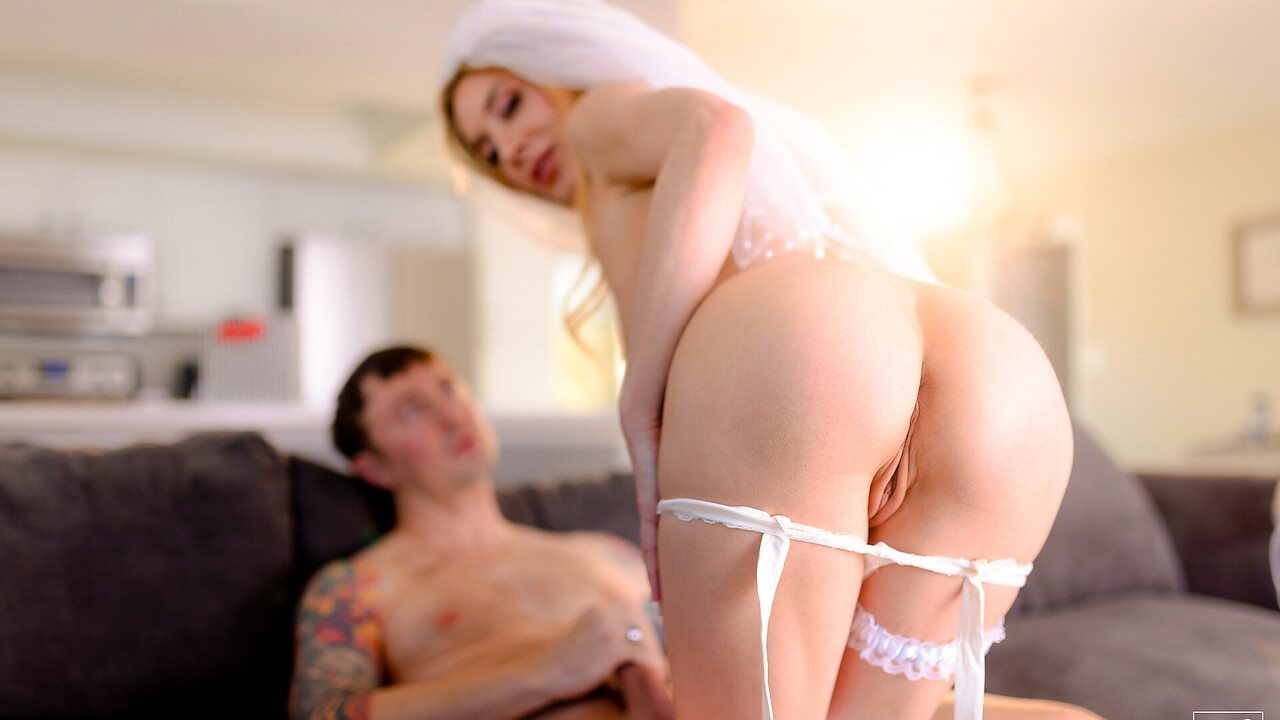 featuring Aiden Ashley and Chad Alva.
Added On:
May 4, 2023
Description:
Aiden Ashley has a bridal fantasy that she wants to play out on day one of her honeymoon. Decking herself out in white lingerie and sheer bridal accoutrements, she makes sure she looks as hot as possible. Then she struts out to where her new husband, Chad Alva, is waiting with his eyes closed.
Chad reacts with all the excitement that Aiden could have hoped for. He pulls her close and draws her in for a deep kiss. When Aiden pushes Chad down onto the sofa, he sinks down willingly beneath her touch. He's already nice and stiff as Aiden climbs into his lap, straddling his arousal. When Aiden gets to her knees to slowly and sensually suck him off, Chad simply throws his head back and enjoys the ride.
Getting to her feet, Aiden relieves herself of her thong. Then she climbs back into Chad's lap and slowly slides down onto his hardon. She rides him nice and slow, taking her time since they're in no rush at all. Chad lets Aiden set the pace, a choice that benefits them both.
Laying Aiden down on her back, Chad spreads her thighs and makes himself at home on his belly between them. He slides his tongue through her slippery slit, enjoying the combination of their juices. In absolutely no hurry, he eats that pussy until Aiden is squirming for more.
Their next position is in doggy, with Aiden on her knees and Chad buried to the hilt behind her. She rocks back to meet him thrust for thrust, enjoying their deep and intimate connection. Still not quite sated, Aiden rolls to her back and lifts one foot so that Chad can lick and suck her toes as he continues their sensual exploration of each other's bodies.
Aiden's orgasm is deep and complete, leaving her squirting her delight. Chad licks her clean and gives her one last dip of the D before pulling out. Aiden knows just what to do: She fists his stiffie and strokes him until he covers her in his hot liquid love.